Iris ID – iData™ Entry Access Control (EAC)
The world's leading iris recognition Entry Access Control software and workhorse of the iData™ software lineup is iData Entry Access Control (EAC) suite. A highly versatile offering, IrisAccess® allows seamless integration within virtually any Physical Access Control System (PACS). iData EAC provides high level integration configurable with Wiegand, relay, GPI/O, and RS232/422.
Additionally, a variety of software development tools are available to provide integration with PACS system user credential processes, and report management systems. iData EAC can empower the IrisAccess system to operate and provide best of breed biometric security in an integrated or stand-alone environment with a repertoire for enterprise use.
iData EAC software has an automatic grading process that ensures that only good or better iris images are enrolled in the system
iDentityCheck™ makes it impossible to have a duplicate record entry in the system 
Read More about our Entry Access Control system.
Time & Attendance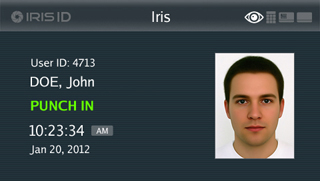 Iris ID biometric devices are one of the most effective solutions for time and attendance, workforce management, and access control. Our iCAM7100 series devices eliminate the potential errors associated with manually calculating employee hours. These readers also eliminate costly "buddy punching" because biometrics identify a person based on their unique physical characteristics of the iris. For the most demanding applications, Iris ID has a solution that will fit the needs. Iris ID can be used in environments where workers have difficulty providing other biometrics.
Ready More about our Time and Attendance system.